Expert Carpet Cleaning in Orlando for a Healthier, More Beautiful Home
---
All Clean Carpet & Upholstery in Orlando, FL has been proudly serving the residents of greater Orlando since 2003!
We use only the best industry-standard cleaning methods to ensure superior results and the longevity of your carpet.
Because of these carpet cleaning practices, All Clean Carpet & Upholstery Cleaning, Inc. has achieved an A+ rating at the Orlando Better Business Bureau and produced thousands of satisfied carpet cleaning customers!


The Benefits of Choosing All Clean Carpet & Upholstery for Your Next Carpet Cleaning Project
Our carpet cleaning method of steam cleaning is recommended by all major carpet manufacturers
We employ only certified carpet cleaning technicians
We're a local, owner-operated business
You'll receive better service at cheaper rates
Same day appointments are available
No bait and switch pricing - the price we quote you is the price you pay!
Do You Have a Carpet That is Faded or Bleached In Areas?
Before you decide to replace it, call us! We can expertly match and blend the colors of your carpet, effectively restoring it to a "like new" condition. Whether it is a small area or your whole carpet - don't replace when you can restore!
Carpets can be very expensive and that's why our Orlando carpet repair services often save our customers a fortune. There are many reasons why your carpet may be damaged, whether it be a fray, tear, iron burn, or other ghastly damage. The good news is that we can transplant a patch of carpet from one area to the other saving you the expensive burden of a carpet replacement.
You will be pleasantly surprised with our carpet repairs. Whether it's a patch, tack strip, j-bar or any other carpet repairs, our expert can repair your carpet in a jiffy!
---
Did Your Carpet Suffer an Unfortunate Accident Causing It to Tear or Fray?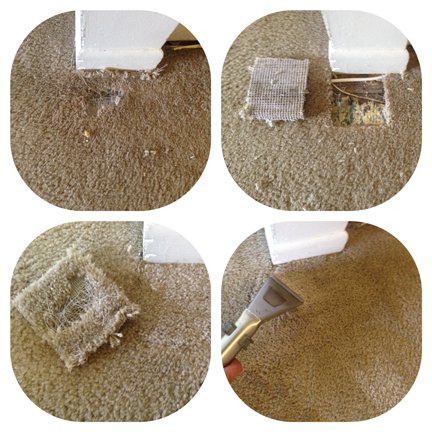 Does it have cigarette burns or unsightly holes? We offer carpet patching and carpet repair of damaged areas. Saving your carpet and restoring it to make it seem like it never happened.
Carpet stains can ruin an entire room. Fortunately, our carpet stain removal process is the best in the industry. Our technicians can remove almost any carpet stain, but time is of the essence. Many times the faster you call upon our carpet stain removal experts, the better chances your carpet stands.
If your Orlando carpet is in need of professional stain removal service, call All Clean Carpet & Upholstery, Inc. today! Same day carpet stain removal services in the Orlando area are available.
Did You Know That the Fibers of Many Carpets Can Be Dyed?
Many times, a carpet that has suffered numerous stains could be a prime candidate for a carpet dying. If your carpet has seen better days, is in the right family of colors, but is unable to be restored through cleaning - it is highly probable that we can dye your carpet to like new condition.
*All carpets are dyed to the next darkest shade of color. You must be the owner of the carpet that you are wishing to dye.
Pet Damage Can Be Stressful for Both You and Your Pet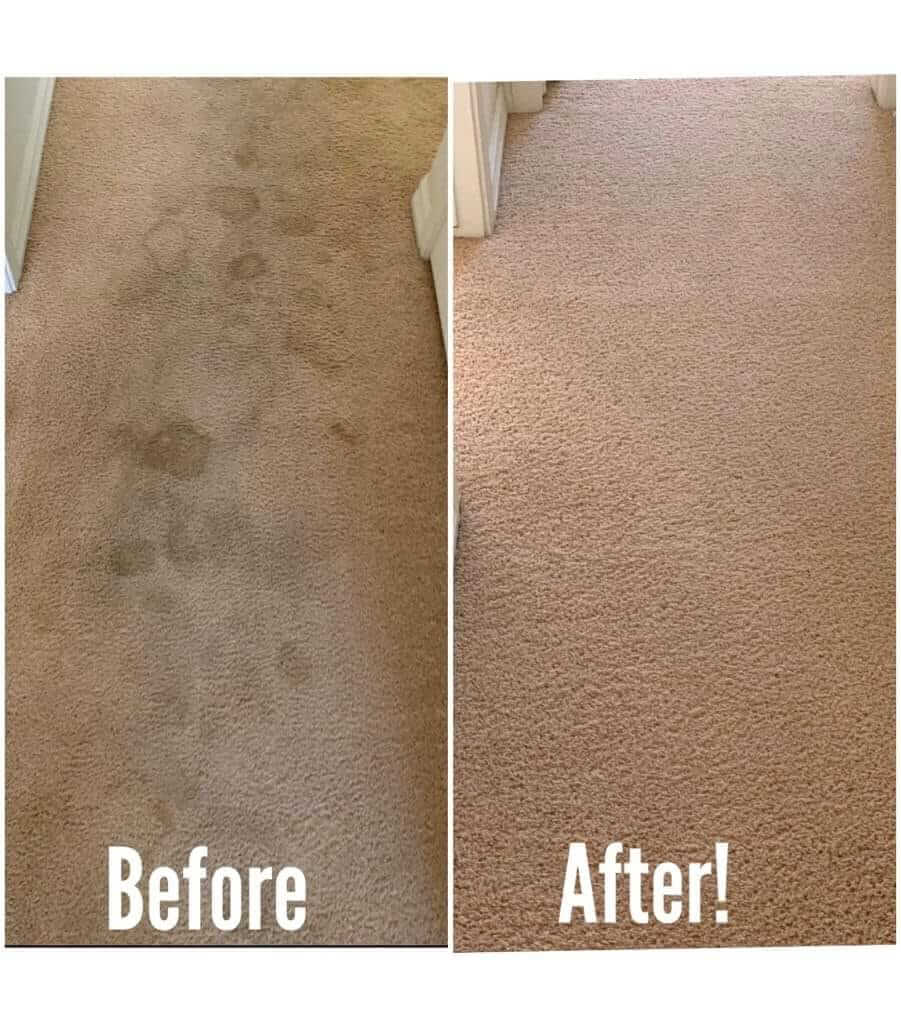 Our specialized pet stain carpet treatment can be just the solution to save your carpet! Our team utilizes a multi-step pet stain removal process that gets superior results over household methods and local competition, which includes:
Lifting the carpet in the area of the pet damage
Removing the underlayment or padding directly underneath the pet damage
Treating the sub floor with a sealer that will not allow any more of the pet damage to secrete through the concrete into the padding and back into the carpet
Pre-treating the pet damage in your carpet
Cleaning using a special enzyme treatment specially formulated to remove the stains caused by animal urine or feces
Re-laying and re-stretching the carpet, replacing the padding, and putting it all back to better than normal!
---
Nobody Likes a Smelly Carpet!
Cigarettes, Cigars, Cooking, and Pets Can All Leave Foul Smelling Odors in Your Home
All Clean utilizes a wide range of products and procedures to permanently remove odor problems, even in the toughest cases.
After we clean your carpet, our technicians will deodorize your carpet to remove unwanted odors. Remember, to remove the odor one must remove the odor causing agent. Our technicians are experts at identifying the cause of any carpet odors. With our truck mounted hot water extraction method - odor and dirt do not stand a chance!
---
Do not delay! Call All Clean Carpet & Upholstery, Inc. today at 321-263-5650 and experience how we can remove the stains and odors from your carpet and leave you with clean floors.