Our Orlando, FL Water Damage Restoration Team is On-Call 24/7!
---
When you call us, you won't get an answering service. You'll talk directly with an IICRC certified water damage restoration expert.
We guarantee an immediate response and will dispatch an emergency water damage crew to your home or business within 60 minutes.
No matter what time or day you call, we are there for you with expert water damage repair advice and emergency water damage restoration services.
All Clean Carpet & Upholstery, Inc. knows that every successful water damage restoration begins with quick water extraction. Our water damage restoration crews will work fast to remove all of the water in order to minimize any damage and before beginning the drying process.
Our employees are certified by the IICRC for water damage restoration and are all neatly uniformed professionals who have years of experience.
Why Choose Our Water Damage Restoration Experts?
No dispatch or answering service - speak to an IICRC certified water damage expert whenever you call.
Water damage crews currently located throughout Orlando for faster response times - in most cases, we can be there in less than an hour.
We work with your insurance company to mitigate the water damage - relax and leave it to us.
Our water damage restoration and extraction rates are up to 50% lower than our franchise competitors.
Powerful truck-mounted equipment is utilized for faster water removal.
Commercial dehumidifiers and air movers result in faster drying of any water damaged areas.
Do You Have a Water Damage Emergency?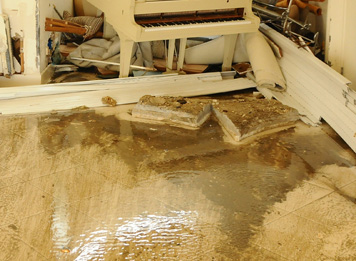 Unfortunately, when water and flood damage occurs, it can be a very stressful time.
Don't add to that stress by hiring a franchise water damage company to come and charge you double - or even triple - the market rate just because of their name.
Our Orlando water damage and flood damage services utilize the most effective techniques and equipment to tackle water damage and flood damage problem the right way. The best part is that we are not a franchise water damage company, so our rates are often HALF that of the other guys!
All Clean Carpet & Upholstery Cleaning, Inc.'s water and flood damage crews are on standby 24/7 waiting for your call. You will not get a dispatcher thousands of miles away - our water damage crews are currently in the Orlando, Florida region.
---
In Most Water Damage Situations, Your Homeowner's Insurance Will Cover the Cost of Getting Professional Water Damage Restoration
We will work with you to make sure you, your family, and home are safe and that the flood and water damage restoration is completed according to IICRC S500 standards. Water from frozen pipe floods are often covered by homeowners insurance, as are water heater leaks, dishwasher leaks, washing machine leaks, sink, and bathtub overflow (even if the kids caused it), toilet overflow, and many other types of water damage. In fact, in most cases, you do not need water or flood insurance to protect you from household water damage!
Once we are contacted, we will work with your Insurance company to minimize any water or flood damage.
All Clean Can Provide You and Your Insurance Company With:
Quick response to avoid unnecessary losses (at IICRC S500 standards)
Powerful truck-mounts, Dri-Eaz Air Movers, commercial Dri-Eaz Dehumidifiers, Air scrubbers and water damage odor control (ozone machines & thermal foggers)
Top-down drying (Category 1- 3 Water) and raw sewage removal
Removal of all wet material to aid in drying
Xactimate itemized invoicing - required by most insurance companies in order to pay your claim
We can also bill directly to your insurance company to save you money
Sewage Backup Cleaning Can Be Very Stressful
Fortunately, All Clean's Orlando sewage backup removal and cleaning process aren't!
All Clean Carpet & Upholstery Cleaning, Inc. is able to professionally address and clean any sewage backup in your home or business. A sewage backup removal involves the process of extracting Category 3, or what is commonly referred to as "Black Water". This type of water or sewage can be extremely dangerous to your health and may cause extensive damage to your Orlando area property.
The good news is that many homeowners insurance policies now cover sewage backup, and our team has extensive experience dealing with insurance company adjusters on sewage backup mitigation and restoration in the Orlando area.
All Clean Carpet & Upholstery Cleaning, Inc. currently employs specialized 24/7 sewage backup extraction teams that can provide a quick response to any sewage backup issues you may be currently dealing with.
Our Orlando sewage backup and water extraction teams can reach your home or business in as little as 60 minutes from the time you call! You will not get an answering service when you call, but a live technician who can provide you the removal of any sewage backup right away.
---